Bullish on digital: McKinsey Global Survey results | McKinsey & Company
Bullish on digital: McKinsey Global Survey results | McKinsey & Company
See on Scoop.it – The Social Web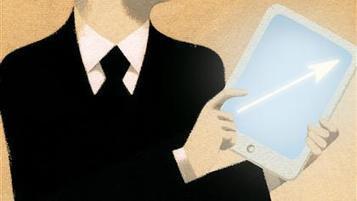 CEOs and other senior executives are increasingly engaged as their companies step up efforts to build digital enterprises. A McKinsey & Company article.
The latest report from McKinsey on the state of digital enterprise (Social Business) offers some interesting insight on trends, as follows:
56 percent of businesses survey say digital engagement of customers is at least a top-ten company priority, and on the whole respondents report notable progress since 2012 in deploying practices related to this trend.
Companies have been slower to adopt digital approaches to engaging their own employees, suppliers, and external partners. Executives say their companies most often use online tools for employee evaluations and feedback or knowledge management; smaller proportion report more advanced uses, such as collaborative product design or knowledge sharing across the supply chain.
Significant growth in the company-wide use of big data and advanced analytics, used to improve decision making, R&D processes, and budgeting and forecasting.
40 percent of respondents say their companies are either incorporating digital technology into existing products or improving their technology operating models (for instance, using cloud computing).
31 percent say their CEOs personally sponsor digital initiatives, up from 23 percent in 2012.
30 percent have a chief digital officer (CDO) on their companies' executive teams, a sign of the widespread awareness that these initiatives are important.
Respondents said that success (or failure) of digital implementations ultimately relies on organization and leadership, rather than technology considerations. The absence of senior-management interest is the factor respondents most often identify as contributing to an initiative's failure. [No surprises here then!]
Organizational issues hinder companies' efforts to meet goals and see real impact from digital. Misaligned organizational structures and difficulty finding functional talent (such as data scientists or digital marketers) are cited as the biggest issues.
57 percent say their companies are up to one-quarter of the way toward realizing their end-state visions for their digital programs, and just 40 percent say their organizations' digital efforts have yielded a measurable business impact thus far.
Looking ahead, the report concludes:
Find the right digital leaders. Leadership is the most decisive factor for a digital program's success or failure.
Manage expectations. Setting the right agenda and maintaining an aspirational vision while addressing organizational, technical, and cultural challenges. Prioritize talent. Concerns about finding the talent their companies need to realize their digital goals.
Technical, functional, and business skills are all critical for digital programs. Finding and hiring talent is only part of the solution; no matter where the talent comes from, development and retention are equally important in a sellers' market.
The full report is available from McKinsey.