The 2013 Social Media Landscape [Infographic] – Brian Solis
The 2013 Social Media Landscape [Infographic] – Brian Solis
See on Scoop.it – The Social Web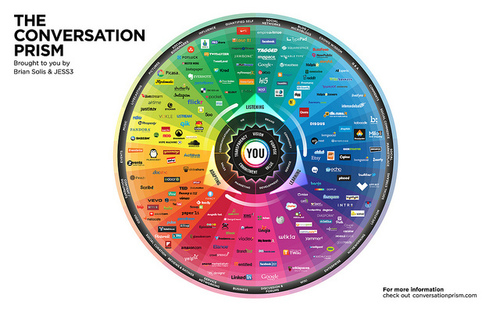 Stephen Dale's insight:
I've kept track of the various iterations of Brian Solis's Conversation Prism since he first made this available (Version 1) in 2008. This is the latest version (Version 4) which reflects some of the consolidation and disappearance of some brands since the last version. From the article:
"For those unfamiliar with The Conversation Prism, it is an evolving infographic that captures the state of social media, organized by how important social networks are used by professional and everyday consumers. It was created to serve as a visual tool for brands to consider unforeseen opportunities through a holistic lens. Over the years, it has served as a business tool as well as art decorating the walls and screens of offices, conference halls, and also homes.
The Conversation Prism was designed to help strategists see the bigger picture in the evolution of social media beyond the most popular and trendy sites. It is intended to help in a number of ways…
1. As a form of validation to show executives that social media is not a fad and that it's bigger thanFacebook, YouTube, Twitter, and Pinterest.
2. To motivate teams to find new ways to think about social media and explore new ways to improve experiences and relationships.
3. Provide a top-level view to help strategists study the landscape as they plan their next social media strategy."
It is provided as a free download in many sizes and shapes here.
See on www.briansolis.com